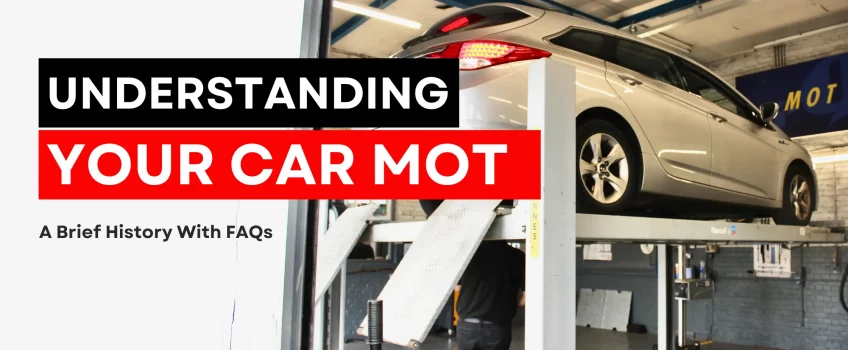 What Does A Car MOT Mean?
Along with regular vehicle maintenance, a car MOT is one of the most important aspects of owning a car. Driving a car without an MOT is against the law and can result in hefty fines and points on your licence. As common as the term 'car MOT' may be, not everyone knows what it means, what it stands for or what an MOT exemption refers to. In this quick-fire guide, we answer a few of the most FAQs about a car MOT with some background on the UK's crucial car safety test.
What Is A Car MOT?
The term MOT stands for the Ministry of Transport. The government department introduced the test back in 1960 as a way of testing vehicle safety, exhaust emissions, and overall roadworthiness to help improve road user safety.
The Ministry of Transport oversees the English transport network, focusing on transport emissions, the future of transport, security and civil matters relating to all modes of transportation. The ministry was established in 1919 and became the Department of the Environment in 1970 which was renamed the Department for Transport as we know it today.
A car MOT test, however, is issued by the Driver and Vehicle Standards Agency (DVSA). According to the UK government, as of 2021, there were more than 23,000 MOT test centres with nearly 65,000 MOT testers across the country.
What Are The Different Types Of Car MOT Tests?
There are several UK MOT Classes which we've listed below along with the corresponding vehicle types. While we can perform most types of MOT tests at our certified garages, some may only be available at certain locations. For more information, please contact your nearest Elite Garages MOT testing centre.
MOT Class 1
Motorcycle (engine size up to 200cc)
Motorcycle with sidecar (engine size up to 200cc)
MOT Class 2
Motorcycle (engine size over 200cc)
Motorcycle with sidecar (engine size over 200cc)
MOT Class 3
3-wheeled vehicles (up to 450kg unladen weight)
MOT Class 4
3-wheeled vehicles (over 450kg unladen weight)
Cars (up to 8 passenger seats)
Motor caravans
Quads (max unladen weight 400kg – for goods vehicles 550kg and max net power of 15kw)
Dual purpose vehicles
Private hire and public service vehicles (up to 8 seats)
Ambulances and taxis
Private passenger vehicles and ambulances (9 to 12 passenger seats)
Goods vehicles (up to 3,000kg design gross weight)
MOT Class 4a
Class 4 vehicles (9 to 12 passenger seats) with a seat belt installation check
MOT Class 5
Private passenger vehicles and ambulances (13 to 16 passenger seats)
Private passenger vehicles and ambulances (more than 16 passenger seats)
Playbuses
MOT Class 5a
Class 5 vehicles (13 to 16 passenger seats) with a seatbelt installation check
Class 5 vehicles (more than 16 passenger seats) with a seatbelt installation check
MOT Class 7
Goods vehicles (over 3,000kg up to 3,500kg design gross weight)
Do All Cars Need An MOT?
Generally, any car that is more than three years old needs to have an MOT once a year. You can check if your car needs one by looking at the date on your last certificate or by using the MOT history checker. If you're not sure when your MOT is due, you can also sign up for email reminders from Elite Garages. By becoming part of the Elite Member's Club, you will also be among the first to receive updates on special offers.
What does MOT exempt mean?
Whilst a car MOT is a legal requirement for most vehicles, there are a few exceptions to the rule, including the following:
Cars built more than 40 years ago (owners are still legally required to maintain them in a safe and roadworthy condition)
Some historic or classic cars that have not undergone substantial modifications
Electrically powered goods vehicles registered before the 1st of March, 2015
Tractors
If you think your vehicle might be MOT exempt, you can complete an MOT exemption form (V112.
How Much Does A Car MOT Cost?
The cost of an MOT depends on the vehicle test centre that you use. While the DVSA sets the maximum price that garages can charge for an MOT at £54.85 for cars and motorbikes, this does not include the cost of any repairs that may be required.
How Long Does A Car MOT Take?
The time it takes to complete an MOT varies depending on the vehicle test centre and the type of vehicle being tested. Although the average time for a car MOT is 45 minutes, it can take up to an hour for larger vehicles.
What Does A Car MOT Include?
During a car MOT, A DVSA-approved examiner will conduct a visual inspection and a comprehensive series of checks around the vehicle. They look at the interior, exterior, under the bonnet and even underneath the vehicle with the purpose of effectively assessing every working part of your vehicle. Some of the parts or components checked during a car MOT include:
seatbelts
brakes
steering systems
exhausts and emissions
doors
mirrors
car tyres (condition, pressure, tread depth)
shock absorbers
suspension system
condition of wheels and wheel bearings
registration plate
fuel tank cap
For more information on what a car MOT entails, read our MOT services page.
What Happens If My Car Fails The MOT?
If your car fails its MOT, you will be given a reference number that you can use to find out why it failed. The MOT test report will list any faults that were found, and you will need to have these repaired before your car can be retested. You can often have your car repaired at the same vehicle test centre where it failed its MOT, and they may offer a discount on the repairs.
Once the car MOT faults have been repaired, you will need to book a retest. You will usually have to pay for this, but it is often cheaper than the initial car MOT test. However, many MOT testing centres, like Elite Garages, offer free MOT retests if booked within 10 working days. Want to pass your MOT the first time? Then we highly recommended reading this article and watching the video below highlighting MOT faults and what happens if you fail.
Can You Drive A Car Without An MOT?
If your vehicle doesn't have a valid certificate, you cannot drive it on any public road unless you are going straight to an MOT test centre. If the police do pull you over on the way, you must be able to prove you have a pre-booked test.
Driving a vehicle without a valid MOT certificate is illegal under Section 47 of the Road Traffic Act 1988 and pretending you didn't realise will not get you anywhere. In addition to your insurance being invalid, you could also face a £1,000 fine and six to eight points on your licence.
Recommended: 'MOT Expired? Risks Associated With An Expired MOT'
Where Can I Find The MOT Test Number?
The MOT test number is the 12-digit serial number printed on your most recent certificate. Vehicle owners typically only need a test number when replacing a lost or stolen valid MOT certificate. If you need a car MOT certificate from the government, you can apply for a replacement online. However, you can also do this using your vehicle's registration number, the particular make and the 11-digit reference number you will find in your vehicle's V5C logbook.
Car MOT At Elite Garages
Understanding what your MOT means is a great way to ensure your car is being driven safely and legally. By not forgetting your MOT, you can avoid the risk of fines and penalty points while minimising the potential for accidents as a result of driving a car that is not roadworthy.
Contrary to popular belief, there is no MOT grace period so if your MOT is about to expire, book an MOT test at your nearest Elite Garages as soon as possible. We provide dealership quality services with greater value and no hidden costs.
Visit our locations page to find an Elite Garages car MOT centre near you, including areas like Brighton, Bournemouth, Southampton, Shaftesbury, Newport (IOW) and Portsmouth!
About Us
Elite Garages HQ
Star Road Industrial Estate Partridge Green RH13 8RA Tel :
01403 756520